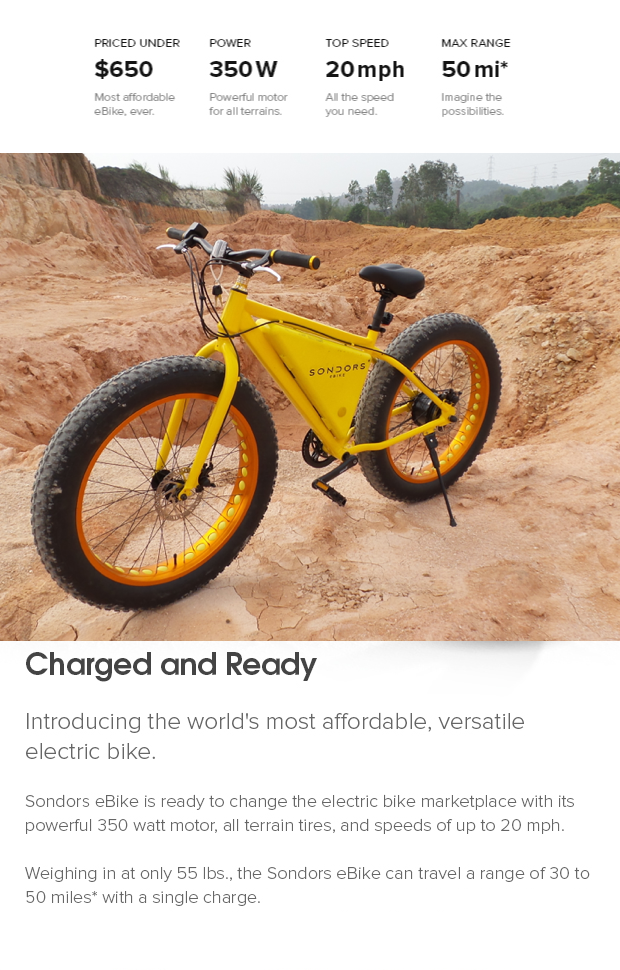 Shipping Has Started!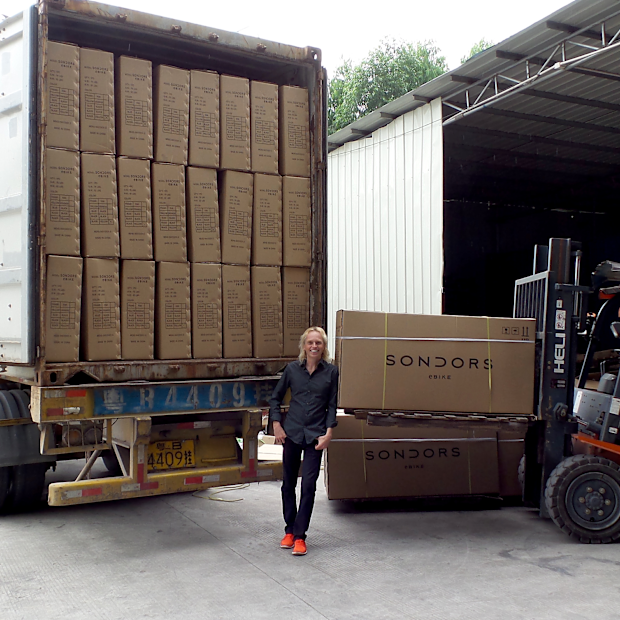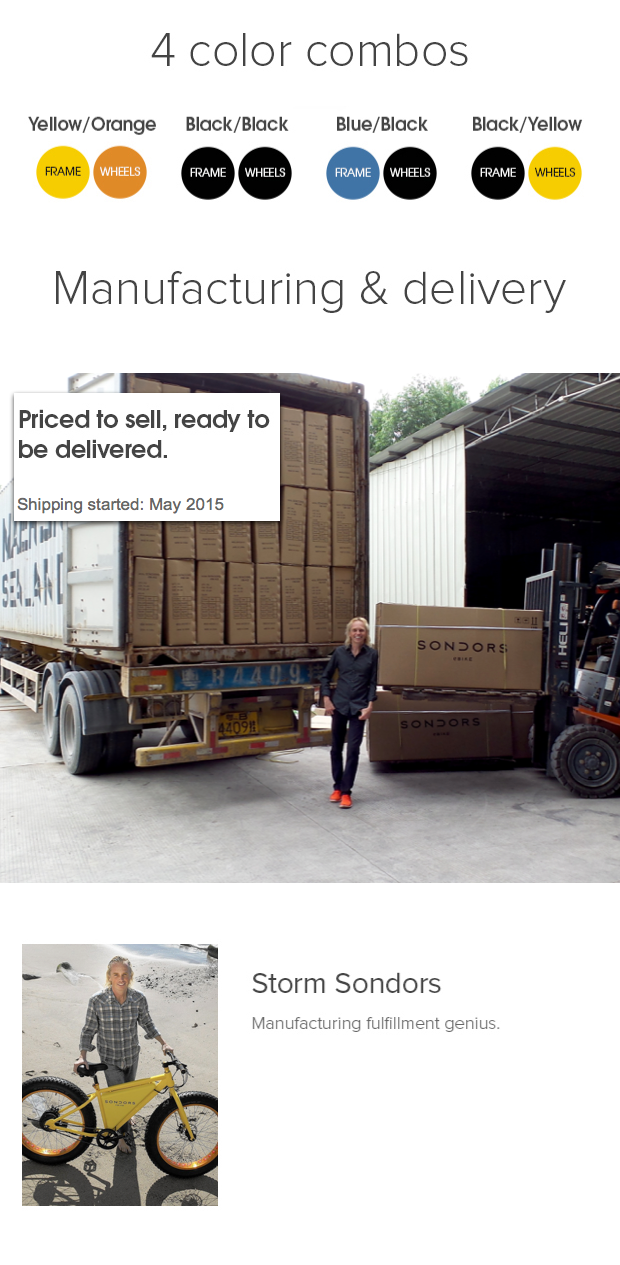 Storm Sondors is a humble man with much success in his life that not many know about… Storm lives a simple life, enjoys the outdoors, the ocean, traveling but an off the grid in a sense lifestyle. Not much for computers or cell phones…just the great outdoors.
Storm envisioned the bike after he suffered an accident that temporarily limited his mobility that affected his outdoors/ beach way of life.
Being an avid surfer since he was a child, Storm still finds the time to surf regularly. During the period of his immobility, Storm needed a way to get down to the beach without complicating his injury. As it turns out, Storm's professional background includes industrial design and lived in Hong Kong for years.
Did you know, many of those little McDonald's toys that you used to get in your Happy Meal were designed and prototyped by Storm for years?
Storm developed the idea of the eBike to get him back to the ocean and into the water by sourcing the needed items to make it for himself through his extensive network of manufacturers in Asia and throughout the world.
With a name like Storm Sondors, it only seemed right to name the bike after him.
Where We Plan to go
With the amazing outpouring of support over the past few days, we now have the opportunity to do some great things.
Charity
We would like to align ourselves with a few charities that help people get to and from where they need to go. Do you guys have any ideas of some great ones? Possibly a Veteran's organization, as we have had many comments about how the eBike could help them out.
Demo Day
For any of you that live in the Southern California region, we would like to set up a demo day. See the Sondors eBike in action for yourself! Possible locations could be San Diego, Santa Monica and Santa Barbara.
You all had the same questions about the eBike… Have a look below at the most common ones:
FREQUENTLY ASKED QUESTIONS
MISCELLANEOUS
What is the bike in the video?
The bike in the video (yellow/ green bike) is the prototype.
Why is everybody stand-up riding on the bike in the video?
Those are action shots and we wanted to convey how exhilarating the ride is!  Check out TechCrunch's review video for video with someone sitting down on it.
You mention Storm's background is industrial design? What is it?
Industrial design is a process of design applied to products that are to be manufactured through techniques of mass production. Its key characteristic is that design is separated from manufacture: the creative act of determining and defining a product's form takes place in advance of the physical act of making a product, which consists purely of repeated, often automated, replication. The role of an industrial designer is to create and execute design solutions for problems of form, usability, physical ergonomics, marketing, brand development, and sales. Industrial designers don't usually design motors, electrical circuits, or gearing that make machines move, but they may affect technical aspects through usability design and form relationships.
USAGE & ACCESSORIES
How is the bike on handling uphill terrain?
Performance on hills depends on the steepness of the hill and the weight load on the bike. In some instances, people will need to use both the pedal and the motor to go uphill.
What's the maximum weight limit?
We've tested the bike up to 250lbs, we cannot make any guarantees about performance or durability above that weight.
How high can the seat extend?
The seat can extend a full 12". This put it 42 inches off the ground.
What is the frame size?
The frame is 44″ from axle to axle.  78″ tire to tire.
How much does the bike weigh?
The bike weighs approximately 49lbs without the battery.
How much does the battery weigh?
The battery weighs approximately 6lbs.
What are the battery specifications?
36-volt 9ah (approximately) Lithium – Ion battery is designed for long running time. Batteries can be charged hundreds of times without noticeable loss in capacity. Detailed Product Description: 36V 8.8Ah Lithium Ion Bottle E Bike Battery Packs: Specification: Model: Li18650-10S4P Volt: 36V Capacity: 8.8Ah Standard Charge: 1.76A Continuous Charge: 4.4A Max. Continuous Discharge: 8.8A Size: 91*335mm Operating Temp.: -20~+60deg C Including Battery Cells, BMS, Charger and Aluminum Case | Top quality battery, no memory effect, high energy density, long lifecycle. | Electric/Pedal assist range up to 35-50 miles (rider weight and terrain contingent) | Under Electric Power Range – up to 20 miles (rider weight and terrain contingent)
Is there a rear-splash guard option? Is there a back-tire rack option?
That option is currently not available through us. This bike has standard frame qualities making it easy to modify with aftermarket products, including splash guards and rear racks.
Can I replace the parts on the bike?
Sure. We had a few different options for the parts that we decided to move forward with. The decision to select these parts come down to price, availability at scale and quality. It is entirely up to you on what parts you would like to use. Replace them at will.
I have seen the wheels on a bike before at my local bike shop, can I buy those if I pop a tire?
Absolutely. The Sondors eBike uses parts that are already on existing bikes on the market. The bike parts can be found online, or on other bikes so they are commercially available. This is ultimately what allows us to produce the bike at a lower cost.
Is this a single speed bike? Can you limit it to 10MPH for off-roading?
We do not currently have any speed limiting options. Pedal power is on a single freewheel gear, as it was designed to receive motor assistance.
Is there speed monitoring/digital display on the bike? 
There is no built-in digital display/speedometer, but the bike will work with any aftermarket speed monitors.
Is there a key/interlock to prevent accidental starting?
There is no interlock currently. However the throttle will not start until one presses a button to activate the motor.
Will a standard U-Lock fit around the wider frame? 
This varies depending on the type of lock, and the type of U-Lock that you use, but in general it will work with most consumer bike locks. Remember that the center portion of the frame is utilized for the battery compartment so all frame related locking would be through the back wheel and frame which is ideal in most cases.
LEGAL/WHERE CAN IT NOT BE USED
Can this be used in NYC?
At this current time, there are laws and restrictions on eBikes in NYC and the State of New York. To be safe please check with your local authorities as these types of regulations change frequently.
Do you have to wear a helmet?
As with any bicycle, safety should be paramount. We would recommend wearing a helmet, even if your state laws does not require it. Sondors eBike is not responsible for injuries, please be safe while you ride.
PAYMENT & SHIPPING
Can it be picked up locally in LA?
At this point in time we are not offering local pick up.
How do I pick the color?
After the campaign, we'll reach out to everyone and have you select the color choice.
Can it be financed/multiple payments?
We're proud to announce an "Easy-Pay" option where for $199 you can reserve your bike now and then pay the remaining balance at the end of the campaign. You can select this option under the "Reserve Now, Pay Later" perk.
Will the cost of shipping go down?
No. The current cost is $194 for US shipping and $247 for International.
COST/ MANUFACTURING
Why is the price so low for the Sondors eBike compared to competition?
Storm Sondors is 100% committed to creating the first affordable eBike. Most options on the market now are far more expensive, limiting the ability for everyday people to have the opportunity to have. He hopes this is the electronic bike for the masses.
How can you keep the eBike's cost so low?
This goes back to Storm's experience. Having had years of experience in sourcing and manufacturing, we can keep cost low based on volume. Keep in mind, all those happy meal toys were designed and prototype to be cost effective by Storm Sondors. That is volume…that experience is how we keep our price low.
How is the eBike built?
The Sondors eBike is manufactured using all existing parts to keep cost low. Storm has carefully sourced manufacturers throughout the world in order to keep prices low, while ensuring quality.
Can Sondors eBike handle the volume of bikes?
Yes. The more bikes the better. This will allow us to reduce the overall cost of the bike and the shipping cost directly to you. Our sourcing and manufacturing partners are world class. Storm has been working with them for decades.
How many eBikes can you deliver?
Storm Sondors is confident that we can deliver between 12,000-14,000 eBikes in a first production run. This is based on our quality control process of testing each bike before it is shipped. Should we have demand for over these numbers, we will likely need to schedule a second production run to accommodate the volume.